IRT Cross
@
---
Ambient/ Surround Recording Array:
Mounting Bars for gIRT Crossg CB 250, CB 200

The IRT microphone cross is an arrangement for ambient recording. Its primary characteristic is a transparent and spacious rendering of the acoustic environment. It is useful as a four-channel arrangement for room tone for example in combination with the OCT surround system (for more details please view PDF, chapter 3.1):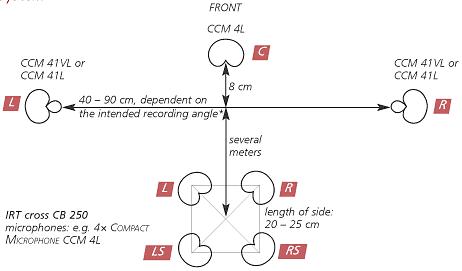 With certain restrictions the IRT microphone cross can also be used for full surround (e.g. 360‹ cinema sound recording or for other playback arrangements in which the speakers are placed in the four corners of a square).

The CB 250 is the version which more closely approximates the theoretical ideal, while the CB 200 is the original, somewhat smaller version.
@

A modified form of IRT Cross exists for supercardioids as well. Since the distance between microphones is only 140 mm, the cross itself is distinctly smaller.